Looking familiar?
Spoiler:
The area in real-life Japan where the games' region lines up is also called Kanto.
Saffron City is located in the same place on this map as Tokyo.
Goldenrod City is located in the same place as Kyoto.
Mount Silver is located where the real-life Mount Fuji is.
Cinnabar Island is located on the island of Izu Oshima. If you recall, Cinnabar Island is destroyed by a volcanic eruption between the first and second generations. Izu Oshima is home to Mount Mihara, which is a volcano.
Vermillion City is located where the real-life city of Yokohama stands.
Cianwood City is the only city whose corresponding real-life city is not considered part of Honshu, but rather of Shikoku. It corresponds with the city of Tokushima.
Hoenn is actually turned sideways to fit onto that map. It's on the island of Kyushu.
The city of Slateport corresponds with the real-life location of Nagasaki.
Mossdeep City is located on the real-life island of Tanegashima. Just like Mossdeep City is home to the Space Center, so Tanegashima is home to Tanegashima Space Center.
Sootopolis City is located on the real-life island of Yakushima. Yakushima's biggest mountain is Miyanoura-dake, which may or may not be volcanic. I'll let you know when I find out.
Evergrande City is located on the real-life island of Amami Oshima, where (I'm not making this up), a species of deadly poisonous snake lives and mongooses are trained to kill them. Sound familiar?
Sinnoh in reality is the island of Hokkaido, which is Japan's largest prefecture. The capital of Hokkaido is Sapporo, which is located in roughly the same location on that map as Jubilife City.
The port city of Otaru in Hokkaido corresponds with the location of Canalave City. The islands where one can catch Darkrai and Cresselia correspond with the locations of Teuri Island and Yagishiri Island.
The Pokemon League is located on the island of Kunashiri. Unlike that spot in the game, this island is volcanic.
Mount Asahi is in the same location on that map as Mount Coronet.
I think we all should know that Unova is based on New York City.
You will never be able to unsee this:
Take a look at Diglett, and look at it's "nose". See that little white spot. Yep, that's actually a tooth.
The Secret of the Old Chateau
Quite some time before the events of Pokemon Diamond and Pearl, a man and his wife lived in the Old Chateau. They had a daughter and lived a quiet and peaceful life. There were several butlers working in the Old Chateau. One of them was called Charon. He had a knack for messing around with electrical equipment in the mansion.
One day, he went into the basement of the mansion to fix an electrical problem from a recent thunderstorm. As Charon was fixing the problem in the basement, he found a peculiar looking object in an unused washing machine. He messed around with the object which he called a "motor". After a couple of days, the motor came to life. Charon realized this certainly was not a motor, but a new species of Pokemon. He called the Pokemon "Rotom" and adopted it as his own.
Several weeks, later, the man's daughter was having a problem with his microwave. She called on his favorite butler to fix it, but he couldn't do the job, so he called on Charon to help him. Charon didn't know how to fix a microwave either, but he knew that Rotom could transform into one, so Rotom transformed into a microwave.
Before cooking anything, they decided to test the Rotom microwave. The test went horribly wrong. Flames came bursting out of Rotom's mouth and filled the kitchen with smoke. Charon commanded Rotom to stop, but it couldn't. The smoke was starting to spread throughout all parts of the mansion. There was nothing that can be done except to evacuate. Everyone made it out in time... except for the man's daughter. One of the butlers quickly realized this and went in to find her. The butler eventually found her and realized the girl had been poisoned from the smoke. He searched everywhere in the mansion for medicine. He finally found an Antidote in a trash can, but it was already too late. The butler started choking from the fire and eventually died from suffocation. The girl soon perished from carbon monoxide poisoning.
Rotom felt emotionally depressed following the event, so he confined himself in a television set for the rest of his life.
Charon, realizing the trouble and damage he had caused, ran away from the scene and later worked as a scientist for Team Galactic.
The man's wife was distraught at what had happened so decided to take up Pokemon training. She decided to train with the Ghost-type so she can communicate with her deceased daughter. She later became a Gym Leader in Hearthome City.
The man... he was just as distraught as his wife. He built a mansion just exactly like the Old Chateau... but it just didn't feel right. He returned to the Old Chateau and retrieved a statue from the entrance hall and the bodies of his daughter and the butler. He placed the statue in his office and the interred the bodies in two separate rooms in his new mansion. No one is allowed to enter those two rooms.
The ghosts of the butler and the girl still haunt the Old Chateau to this very day. The butler is still desperately trying to find the Antidote, but he does not know that he will reach the girl in time. As for the girl, she is still waiting for the Antidote in her room, but she does not know if she will live.
Developer's Mistake
The Brother Theory
Why is Satoshi/Ash so inept compared to Red?
It is a gross misconception that they are intended to be the same character in different incarnations. In fact, Red and Ash are brothers. Red is older by a couple of years - so he started his Pokemon journey around the time of the game's release, and Ash is the younger brother who started his journey around the time of the Anime's release.
Where Red took down all of Team Rocket, the most influential crime syndicate in his country, Ash has a constant rivalry with two completely inept members of the organization that don't apparently take any part in the real endeavors of Team Rocket.
Red is a Pokemon Master. He defeated the Elite Four, even uncovering a lot of their double standards as Team Rocket members.
Ash has not defeated one league yet.
The reason for Ash's incompetence is that he has some learning difficulties/mental retardation. However, he looks up to Red completely and is living his life trying to be just like his big brother and idol.
This is why Gary/Green has no interest in Ash whatsoever. He had his fight with Red, and now occasionally meets Ash along his journey, essentially to check up on him.
This is why Brock and Misty, two Gym Leaders, who have an important job to do in their own towns abandoned their posts to travel with Ash. Red had told them about his brother, and they recognized him, and traveled with him to look out for him and keep him relatively out of trouble when Red couldn't.
Once Red became a Pokemon Master, he went missing. It wasn't until three years later that he was found up Mt. Silver.
After Red's defeat on Mt. Silver, he sent Pikachu back to Pallet Town to be with Ash. Pikachu didn't like it, but knew Red was concerned about his brother.
That's why Pikachu is so wildly overpowered, despite having no obvious training from Ash. Pikachu of course becomes attached to his new 'trainer' and wants to protect him.
Essentially, Red paved the whole way for his simple minded brother, becoming a champion along the way. Most, if not all, the other characters that knew both brothers were playing their part to take care of Ash.
Good Guy Giovanni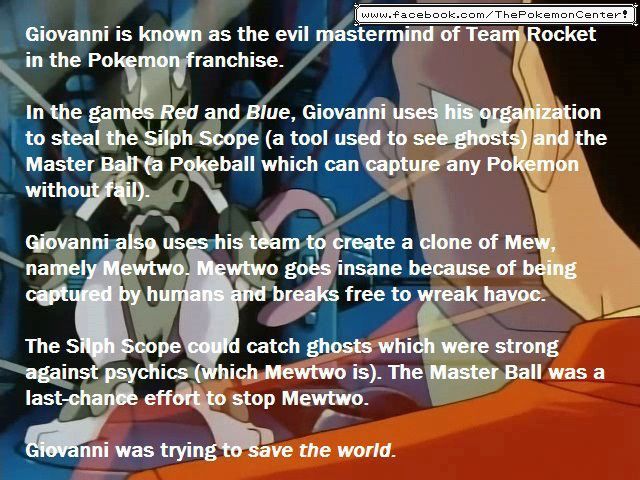 Religiously Inspired Pokemon
Is Game Freak attempting to promote Satanism with Alakazam?
N Harmonia is a Zoroark
Hair style is very similar.
Can communicate with pokemon.
When you access the memory link with BW, and you go inside the Ex-Plasma base in BW2 (next to Driftviel Gym), Zoroark shows you a memory of N acknowledging that nobody should be forced to choose between Black and White, good v evil...its already clear to people. Zoroark, however, is nowhere in the memory. How would Zoroark know these things?
Zoroark shows you where N's castle is. When you go inside, Zoroark is gone, but N is there. (Illusion wore off?)
There is a King's Rock in N's castle. Ghetsis talks about N being the 'king'. Considering the King's Rock is an item held by pokemon, and N is the one with the King-like item, it makes sense.
Just like us
All of Psychic's weaknesses are common fears. Fear of ghosts, fear of the dark and fear of bugs are all common fears, and since psychic has to do with the mind, it would make sense why they're good against it.
Messed up evolution
Nuzlocker Blue
Blue/Gary was actually a Nuzlocker. He made a special rule after the first battle he had that his battles against you didn't count. He lost his Raticate, yes, but in an unrelated battle after the SS Anne. He's not a bad trainer; he's an extremely good Nuzlocker who has only ever lost to one person: you.
Sound and Light Types
This theory is merely speculation and will be either confirmed or busted upon the release of Pokemon X and Y.